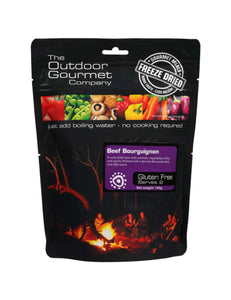 A rustic beef stew with aromatic vegetables, herbs and spices, finished with a densely flavoured dark and silky sauce.


FEATURES
Light – the pouch weighs one third of the meal it makes
Fast – ready to eat in 10 to 15 minutes
Tasty – tastes good enough to finish the meal
Convenient – eat the meal straight from the pouch to reduce clean up
Long shelf life – meals produced with a four year best before date
New Zealand made
TECH SPECS
Net dry weight
190g
Weight reconstituted
752g
Instructions for use
Remove potato pouch. Add 313 ml (1¼ cups) of boiling water to meal pouch and 250 ml (1 cup) of boiling water to potato pouch. Stir and stand each pouch for 10-15 minutes
Allergens
Contains: milk, soybeans & sulphites.
Ingredients
Mashed potato (potato flakes (potato, emulsifier (471), antioxidant (citric acid), preservative (223) (sulphites)), milk powder (contains milk, emulsifier (soy lecithin)), canola oil, salt, sugar, chives), sauce (maltodextrin, thickener (1442), sugar, flavours (sulphites), vegetables, salt, vinegar, hydrolysed vegetable protein, colour (caramel iv (sulphites)), herbs, canola oil, yeast extract, herb extract, acidity regulator (citric acid)), beef dices (21%) (beef, salt, mineral salt (451, 450)), onion, carrot (carrot, sugar, acidity regulator (sodium bicarbonate)), red pepper, mushroom
Nutritional Information - Per Serve
Energy 1620kJ (387Cal), Protein 17.5g, Fat 12.5g, Fat - saturated 4.8g, Carbohydrate - total 48.0g, Carbohydrate - sugars 14.4g, Sodium 442mg
Nutritional Information - Per 100g
Energy 430kJ (103Cal), Protein 4.6g, Fat 3.3g, Fat - saturated 1.3g, Carbohydrate - total 12.8g, Carbohydrate - sugars 3.8g, Sodium 442mg